I never thought in a gazillion years, that I would ever be one of those people with a pet rat.  When I was young and stupid, and working in a video shop in a hip part of town, a few of my customers would come in with pet rats sitting upon their shoulder, just chillin' and looking around.  I used to look at these people and think 'freaks!'.  Now I am one of those freaks.  I was never afraid of rats, and I never saw them as ugly.  They were cute.  But my idea of a pet was a dog.  A big dog.  No little yap-yaps even.  Funny how things change.
I have since had a little yap-yap dog that was adorable and I loved how he could sit comfortably on my lap.   However, the sight of a big dog trying to sit on someone's lap is always a laugh-worthy moment.  Those big dogs, with their big bums taking up a complete lap and the look on their faces when they know it's just not going work out and no one will be comfortable in this scenario.  Never that scenario with a small dog.  Twenty years and two kids later, and we were walking out of a pet shop with rats.
That happened by accident or fate, not sure which.  After my kids and I went through some massive traumatic events, moved on in life and got back on our feet, I felt that a pet may be the way to help them emotionally and mentally heal.  So, we went to the pet store to look around for a pet hamster or rabbit. something small, easy to maintain and doesn't cost a small fortune to feed and house.
So, we walk into the local pet shop and look around for a small animal.  The sales clerk was raving about rats as pets.  She owned seven rats, the owner of the pet store also owned a bunch of rats and they attend rat conventions and events.  I had never heard of such a thing!  She talked about how trainable rats are, how gentle they are and how they will just sit on your lap and fall asleep, just like a dog!  She told me about some of the not-so-great features of a pet rat, too, so I could make an educated decision.
As she talked and led us to the rat cage and opened the cage door, and as my kids were gently interacting with the more braver rats that came out of the cage to greet us, she continued to talk about rats and their needs and benefits of having them as a pet.  I still wasn't totally convinced but my kids were enjoying interacting with them.  They both, for the first time in their life, agreed on the same thing!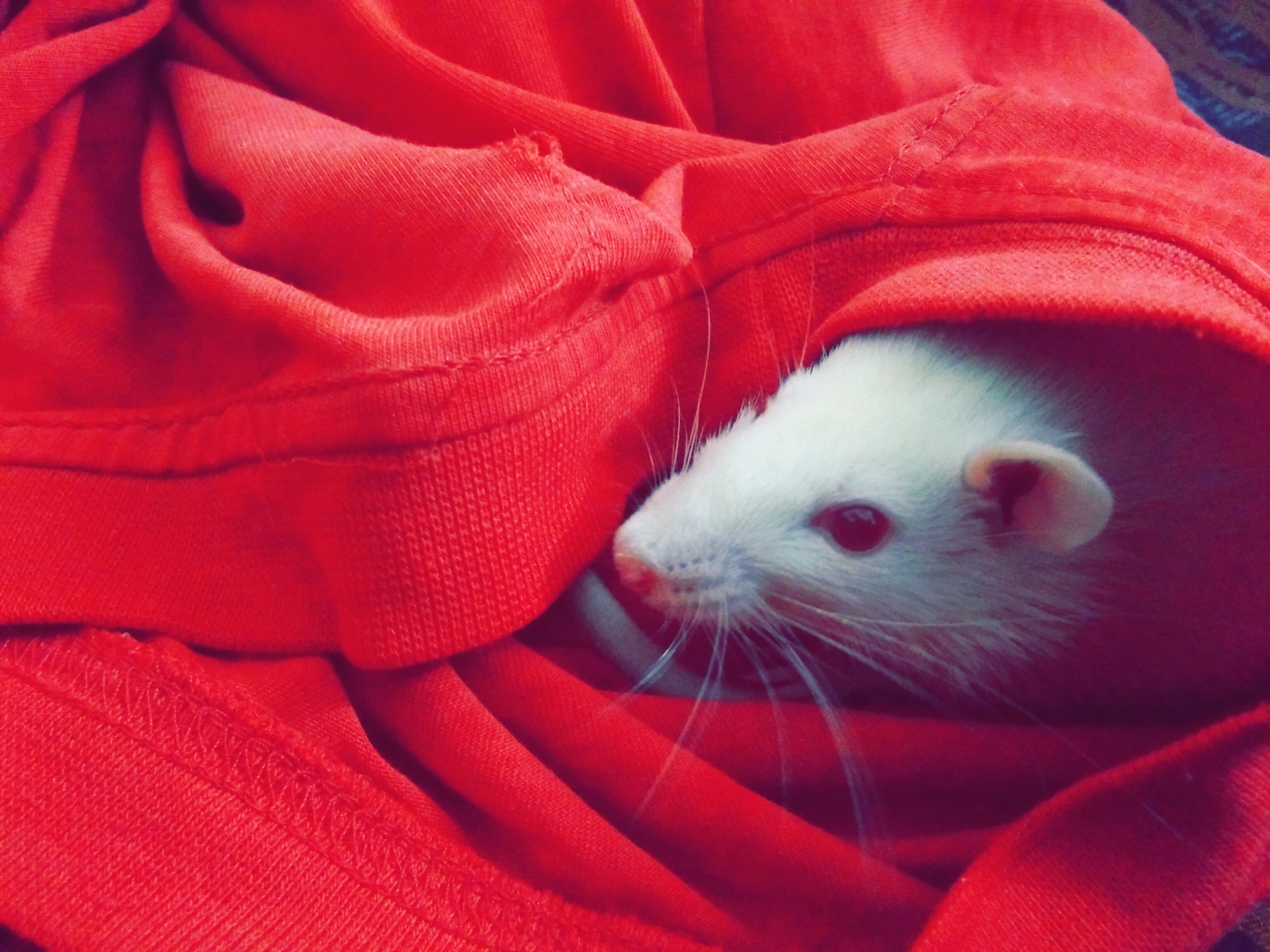 They both agreed to having a pet rat as their new pet.  The sales clerk mentioned that rats are animals that require a rat friend, so I allowed my kids to pick one rat each.  That was one more than I was expecting to take home, but it made sense.
As my kids were interacting and chose their pet rat, one of the rats in the cage decided to come out and see what was going on.  She crawled up my arm.  She was a beautiful cinnamon hooded rat.  She sniffed me, looked up at me with those eyes, and then I heard these words come out of my mouth, "I want one, too!"
So, we walked out of that pet store with three rats instead of one.  I don't know what it is about rats.  Is it their soft fur, their cute little mannerisms, their spirit, their cute little face?  I don't know what it is, but they are adorable and irresistible creatures, once you get to know one.  They have since become addictive.  They are such 'busy' creatures.  And there is something very satisfying when you know you have completely earned a rat's trust.
Our pet rats have given us so much joy and so much laughter and love.   I'm sure there is some sort of chemical reaction that is triggered within me when I interact with my precious punks.  The delight and warmth they exude, the laughter they bring and their cleverness is fascinating.  It relaxes me when we play together, and when I find I am a little down in the dumpsters, I just walk up to my rats, have a play and I walk away smiling and feeling better.
Rats have been amazing therapy as well as fun company to have around.  Rats came to us at a time in our life in which we had radical changes going on.  We had just overcome some very full on challenges and obstacles in our lives.  Our life is radically different to what it used to be, for the better, and our new found pet, our new addition to our family, helped us heal and laugh together.  Laughter is great medicine.
So, that's why I have called my blog, The Ratical Life.  Our life is enriched by these little fellas and they fit in perfect with our new lifestyle.  They don't need a lot of room, so they are the perfect pet for any sized home.  They need time our of their cage to roam and stay stimulated.  This can be done safely and we will explore this a new blog soon.
A a rat fan, there is only one thing I wish were different with them.  I wish they lived longer.
Have you ever owned a pet rat?  What was your first experience with a pet rat that made you decide you wanted one (or two)?